2.5″ Stainless Acura 02-06 RSX Exhaust Piping Kit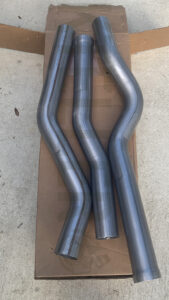 This 2002-2006 Acura RSX Exhaust "kit" is just the tubing portion of the catback exhaust system. The kit will allow you to use any muffler you choose and design your own custom exhaust system. This kit is designed for high exhaust flow and easy installation. The exhaust flow has few obstacles because the kit is made with only smooth mandrel bends. The kit follows the OEM path and is routed like the OEM system.
NOTE: Hardware, such as: hangers, flanges are included with this kit, however; the hardware does not come pre-welded and must be spot welded at the time of install. Due to the difference in many customers cars and setups, some fabrication (modifications) might be needed. Hangers can easily be welded while the muffler is being installed. Hardware is not stainless steel, if you need stainless hanger, clamps, V Bands or flanges, Vibrant Performance offers these and they are available to order in the Exhaust Hardware section of our website.
ETA: Kits are bent in batches, we bend 3" at one time, then tooling is changed to 2.5". We bend 2.5″ kits and when done, then change back to 3" and so forth. Please allow 4-5 business days for bending and then a day for cutting, boxing and having the item ready for shipping pick up. Some orders may ship faster if we happen to have the item left over from a prior batch but please order knowing the rough time frame is always 4-6 business days.
Material Differences: This Exhaust systems are offered in 409 stainless steel and an aluminized 'mild' steel. Stainless steel is said to last "forever" and should never rust, while aluminized kits may show signs of rust and wear if not properly cared for.
Estimated Time To Ship: Made to order, on avg takes 3-5 business days
Additional information
| | |
| --- | --- |
| Weight | 31 lbs |
| Dimensions | 48 × 14 × 8 in |