A car exhaust is among the most important parts of this useful transportation system. Some people might think that it is not a crucial part but it is in fact needed for every car to function well. Since the invention of the automobile car, exhaust systems have played a significant role in helping great cars achieve a good status. What is an exhaust anyway? An exhaust is not just any simple car part. It plays a variety of roles, which as mentioned, helps a car function well. If you want to change or upgrade your car exhaust system, it is very crucial to learn how it works. An exhaust system eliminates the derivatives of combustion from the engine and expels them into the environment away for the passengers of the car. It also keeps the engines noise quite so as not to produce unnecessary sound. On modern cars, exhaust clear out the discharges of the engine before it is vented out into the atmosphere.
The primary job of an exhaust is clashing. This is the reason why choosing one is always a hard decision on whether an exhaust suits your car or not. The following factors should be put into consideration when you make inquiries and buy an exhaust system. Cost is an important factor to consider. Like everything that you wish to buy, cost should always be measured. If you are on a budget look for one that is cheap yet follows quality specifications. Canvas them in different stores before you make a decision. For example, a mild steel replacement can be affordable and a bit cheaper, yet a stainless item can cost more, but is most likely to last many times longer.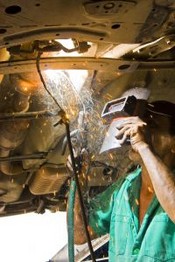 – Longevity, weight, performance, and sound should also be considered. Ease and quality of fit of the exhaust to the car as well as its compatibility to your car is also of great importance.
– Choose a system that is affordable, but also make sure that it is rustproof because rust obviously lessens its lifespan. Stainless steel items are more expensive but are going to prevent rusting over a traditional mild steel.
– Select an exhaust that is lightweight and performs well because no one really wants to buy something does not function well. Like every machine, an exhaust system should do its job well. Every exhaust system should also have a perfect fit to your car because it may not be able to function well without a great fitting. This means that when you choose or buy a car exhaust you should bear in mind that it has to be compatible with your car.