[ad_1]

In various forms of motorsports there are strict limits on displacement. Some sanctioning bodies allow you to run any size engine while others tie displacement to a sliding weight scale. On the street, its anything goes as larger and larger engine blocks are becoming available to builders. This has created a need for a larger intake to provide sufficient air to mix with fuel and generate the desired internal combustion.
To help meet that need, K&N has introduced the RU-5163XD universal clamp-on air filter. It's jumbo sized to meet the needs of monster motors. The tapered conical filter itself is 4.125 inches to fit into tight spaces, but measures 6.5 inches at the base, with a 5.0 inch inside diameter. That's right, the RU-5163XD will match right up with a five inch intake pipe. And as the filter flange is constructed from ultra-strong molded pliable rubber, it allows for secure attachment and can also be stretched for up to 1/16″ (1.5mm) to fit in-between sizes.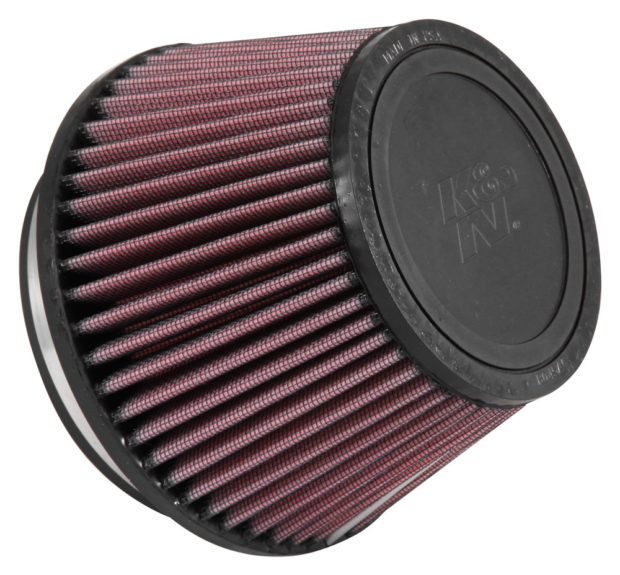 All K&N universal air filters are manufactured from multiple layers of oiled cotton, a well-regarded filter media due to the irregular surface of the cotton thread and its ability to grab passing dust and dirt. The RU-5163XD not only allows for increased air flow but also provides excellent filtration properties to ensure long engine life. This is verified by K&N's sophisticated in-house ISO 5011 filtration efficiency testing laboratory, which adheres to International Standard Organization protocols, ensuring that K&N air filters provide high airflow without sacrificing engine protection.
The only maintenance required for a K&N universal filter is a quick and easy service. When needed (which can vary depending on your driving conditions) just grab a K&N air filter cleaning kit to refresh and re-oil your air filter — bringing it back to brand-new condition and ready for more miles of driving or racing. And the filter comes from K&N with a one year limited warranty.
For more information on this universal air filter, check out K&N.
[ad_2]

Shop Now